Amnesty Warrington in the Town Centre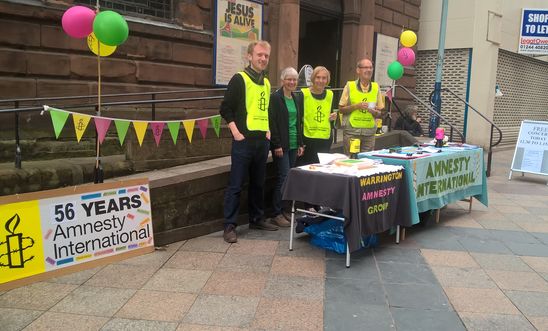 Manning the stall on Saturday 3 June
The Warrington Amnesty Group have already been out and about in Warrington this month.  On Saturday 3 June they set up a stall outside the Holy Trinity church at the top of Sankey street.  Thank you to everyone who came to sign our petitions and have a piece of birthday cake to celebrate 50 years of campaigning in Warrington.
Lots of people stopped to sign the Human Rights manifesto petition which will be sent to the Prime Minister following the election. Many local Amnesty groups are sending petitions and lobbying their local MPs to save the Human Rights Act.  Our second petition highlighted the plight of women in El Salvador who risk being charged with aggravated homicide if they suffer a miscarriage as abortion is illegal in this country.
We also collected £85 due to the generosity of many passers by who stopped to have a quick chat and add their support for the work of Amnesty.
View latest posts