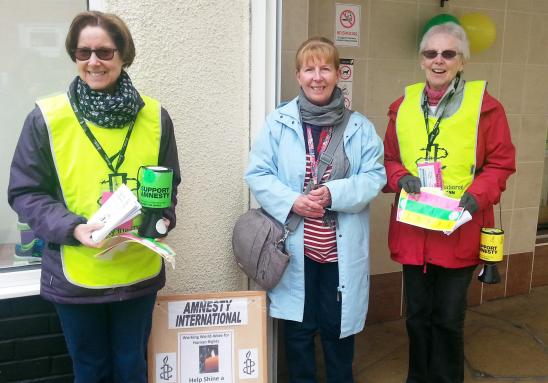 About Warrington AIUK
Welcome to Warrington AIUK website, part of Amnesty International UK.  We are a group of like-minded people who are concerned about the protection of human rights around the world.
Our website provides information on our activities which include regular meetings to discuss campaigns, activities, fundraising and current human rights issues.
We are passionate about raising awareness about human rights abuses so take every opportunity to join in local community events representing AIUK and the work they do.  Events are great fun as we run games, quizzes, tombolas, plant and book sales but are always looking for new ways to be creative around the human rights message.
Fundraising is also an important part of our work and we have two street collections a year dedicated to this.  Rain or shine it is always interesting to chat to people who put money in the tin and are often Amnesty members themselves. 
During December we hold one of our most important events which is part of the annual AIUK Write for Rights campaign.  Hosting a coffee morning we invite people to join us in sending greeting cards and messages of hope to individuals or groups suffering human rights abuses.  Each case is carefully selected by AIUK and it is inspiring to see that Presidents, prison governors and police chiefs do take note when they receive all the messages and appeals to stop the harassment of a human rights activist or to change an unjust law.
We meet on the third Thursday of the month at the Nora Street Community House in Warrington to discuss campaigns, fundraising and current human rights issues. Please contact us to find out more about our meetings and activities.  It is not necessary to attend meetings to be part of the Warrington network of AIUK and support us at one or more of our activities.  Alternatively, simply email us to sign up for our free email newsletter to find out more about our activities and perhaps come along to say hello.
 ​