Shawkan's Photo Exhibition Officially Launched by Cllr. Kuldip Sahota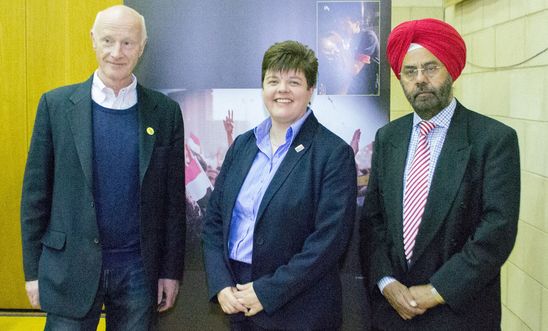 Hugh Sandeman, Katrina Gilman, Kuldip Sahota © Ted
The Shawkan's photo exhibition launched successfully by Cllr. Kuldip Sahota. Cllr. Sahota talked on he has been a member of Amnesty International for many years and his personal experience on Human Rights. A candidate from local Labour party, Katrina also attended the launch and spoke on everyone should not be deprived of their basic Human Rights. Hugh Sandeman, Egypt Coordinator, Amnesty International UK, spoke on the latest update is not good, the prosecutor called for sentencing all defendants, including Shawkan, to death. Hugh also explained on how Shawkan's case was pick.
Kindly note that, the Amnesty International is non political organization and the Telford group did send invites to both Telford MP, Lucy Allan and Wrekin MP, Mark Pritchard. But both MPs expressed they're not available on 14th April when we officially launch the Shawkan's Photo Exhibition.
14 April - 27 April
Open to public:
14 April (Sat) 10am – 11:45am 6:30pm – 8:30pm (official launch)
19 April (Thurs) 10am – 11:45am
21 April (Sat) 10am – 11:45am
26 April (Thurs) 10am – 11:45am
*Viewing at any other time will be at the church's discretion.
View latest posts