October Monthly Meeting: One World Week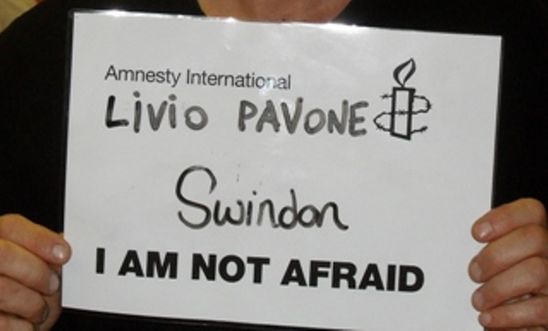 Syria solidarity photo action
Ellis Brooks, AIUK Syria Coordinator, updated us on the developing situation in Syria, and on Amnesty's campaigning approach.
Syrians standing up for freedom and democracy draw strength from knowing that Amnesty and people around the world are standing with them. Syrians living in other countries, including the UK, have been intimidated by Syrian Embassy staff, and their relatives in Syria have been targeted.
People attending our meeting took part in Amnesty's solidarity photo action by having their photographs taken holding the slogan "I am not afraid" in English or Arabic, together with their name. For Syrians to do this takes a huge act of courage, considering the reprisals that could follow.
We can show our solidarity and send a strong message to the Syrian government that the Syrian people have our support. The photos will be uploaded to the Amnesty website to be used as part of the campaign.
Downloads
View latest posts