Next meeting, 5 December 2022, 8.00 pm - Write For Rights Campaign (Hybrid Meeting)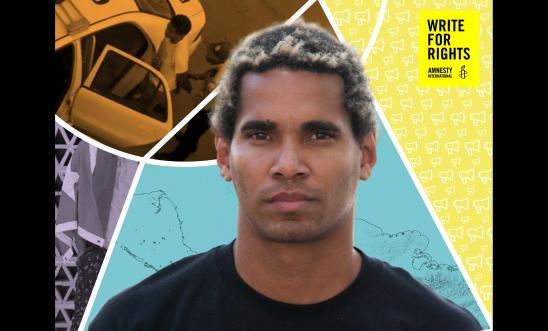 Luis Manuel Otero Alcántara, an artist and prisoner of conscience from Cuba
The World's biggest letter writing marathon will help 10 victims of human rights abuses get justice!
Amnesty International has launched its flagship annual letter-writing campaign, Write for Rights to support 10 individuals around the world who have been attacked or jailed for standing up for their rights.
Amnesty is calling on members of the public to join the global action, which takes place across November and December. People around the world will send millions of cards, emails and tweets of solidarity to individuals or groups of people whose freedoms are being denied, and will write letters putting pressure on those in power to stop the abuses being committed against them.
People across the UK can join to help 10 individuals facing abuses, including:
An artist from Russia, arrested for protesting the invasion of Ukraine
A hairdresser and single mother from Cameroon, imprisoned for attending her first peaceful protest
A human rights lawyer from Hong Kong, jailed for commemorating the Tiananmen Square anniversary on social media
Luis Manuel Otero Alcántara is one of those cases. He is an artist from Cuba and, like many others, he was charged, detained, and imprisoned during the July 2021 protests, when thousands of people took to the streets to protest the Government's mismanagement of the country - from food and medicine shortages to the restrictive measures taken to control Covid-19 transmission. Luis Manuel was detained on 11 July soon after posting a video expressing his mere intention to join the protests. Amnesty has declared him a prisoner of conscience.
Sutton Amnesty International will hold our own W4R letter-writing event on December 5th, 20.00 – 22.00 at the Friends Meeting House, 10 Cedar Road, Sutton SM2 5DA, just a few minutes walk from Sutton station. Everyone wishing to participate will be made very welcome! This is a hybrid meeting, so people can join the meeting via zoom too! Please email our Group Secretary for a zoom invite if you wish to join this meeting on zoom.
For those attending in person, there will be Christmas cakes, tea and coffee available. We hope to see you there!
View latest posts