Poems, Puns 'n Pints hosts Special Guests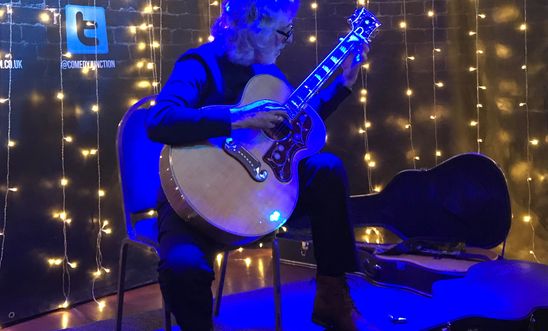 Sutton Coldfield Amnesty International group welcomed a special guest to its Poems, Puns 'n' Pints night – internationally celebrated guitarist Gordon Giltrap.
The singer/songwriter, who lives in Sutton Coldfield and received an MBE in the Queen's Honours List earlier this year, gave a brilliant acoustic performance at the event, sharing the stage with other musicians, poets and speakers.
It is the second time Giltrap has supported the event which takes place annually at Sutton Coldfield's Station pub and this year raised £240.
Also on the stage was Birmingham poet laureate Richard O'Brien who recited some of his works for the delighted audience.
Poems, Puns 'n Pints raises money for Amnesty International, a charity which campaigns for human rights and the release of prisoners of conscience across the globe.
Sutton Coldfield Amnesty International group chairman Andrew Hindle said: "We were delighted to have such stars as Gordon and Richard supporting our event - we really appreciate them giving up their time to help us fight for human rights.
"Our Poems, Puns 'n' Pints night has become a really popular date on the annual calendar and has attracted many musicians, performers and Birmingham poet laureates in the past. We hope it will continue to do so in the future."
The group's next event is a quiz which takes place at Sutton Coldfield Town Football Club on April 26 from 7.30pm. Tickets cost £5 and don't need to be pre-booked.
Sutton Coldfield Amnesty International group meets the second Tuesday of the month (apart from August) at 8pm in the Conference Centre, Holy Trinity Catholic Church, 69 Lichfield Road, Sutton Coldfield, B74 2NU. New members always receive a warm welcome.
View latest posts