Andrew Mitchell MP Takes Part in Human Rights Debate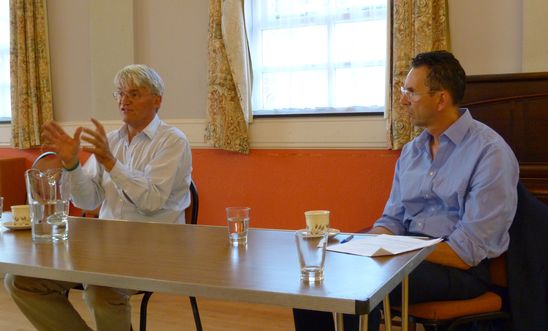 Sutton Coldfield MP Andrew Mitchell praised the royal town's Amnesty International group after taking part in a human rights debate organised by its members.
Mr Mitchell faced questions on a wide range of human rights issues during the 90 minute debate held at Sutton Coldfield's Holy Trinity Roman Catholic Church hall on July 19.
The audience, comprising Amnesty International members and supporters as well as other interested people of all ages, asked about Government policy, international relations and Mr Mitchell's own views.
Subjects covered included Brexit and human rights, Israel and Palestine, UK arms sales to Saudi Arabia, the Iraq and Afghanistan conflicts and Myanmar.
Former Secretary of State for International Development Mr Mitchell praised Amnesty International for its work and said he was always pleased to hear from the Sutton Coldfield branch of the global human rights organization.
"I enjoy the regular communication I have with the members of the Sutton Coldfield Amnesty International group and greatly value the views and comments of this very important local organization," he said.
"You cannot equivocate on human rights. Once you go off the standard that human rights apply to everyone then all is lost. Everyone has human rights - they have to be respected and we have to stand up for them."
Amnesty International campaigns for human rights, the release of prisoners of conscience, an end to torture and the abolition of the death penalty worldwide. Members of the Sutton Coldfield branch do so by writing letters to foreign governments and asking its local MP for support on these campaigns.
Chair Andrew Hindle said: "We have been meeting in Sutton Coldfield for about 40 years. From the first week that Andrew Mitchell was elected to the constituency of Sutton Coldfield he has been receiving letters on all aspects of human rights from our group. He always replies to our letters and that is very much appreciated.
"We were delighted he was able to give up his evening for this lively debate and even more delighted he has offered to make the discussion an annual event. So we'll be sharing details of the next one in early next year."
Sutton Coldfield Amnesty International meets at 8pm on the second Tuesday of every month (except August) in the Conference Centre, Holy Trinity Catholic Church, 69 Lichfield Road, Sutton Coldfield, B74 2NU. New members are always given a warm welcome.
View latest posts