Successful International Arms Treaty lobby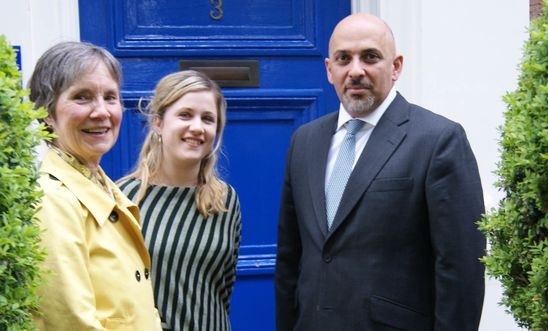 Stratford on Avon's MP, Nadhim Zahawi has agreed to write to Prime Minister David Cameron and urge him to make a public statement calling for a robust and comprehensive  international Arms Trade Treaty, following a meeting with members of Stratford Amnesty's group. Mr Zahawi is pictured with Secretary Kathy Stredder (left) and Sophie Fitton, who leads on our Arms Trade actions.
This July world leaders will meet in New York to agree a treaty which, potentially at least, could save countless lives and help prevent human rights abuses across the world. Recent atrocities in Syria provide a tragic and timely reminder of the human cost of an unregulated arms trade. But sadly the problem is world-wide - every day at least 1,500 people around the world die as a result of armed conflict. And although many governments are in favour of a strong and binding Arms Trade Treaty, some would prefer a weaker one. Russia, China and the United States are arguing for looser rules covering a narrower range of weapons. These are the three most powerful countries in the world, of course, but they can be persuaded to accept stringent and wide-ranging regulations if other countries prove resolute in demanding them.
In this context it is crucial that the UK – one of the world's major arms exporters – maintains and strengthens its support for a really effective treaty. Accordingly Mr Zahawi was asked to write to the Prime Minister urging him to make a public statement calling for a treaty that will be both robust and comprehensive. Specifically, Amnesty International believes that it is essential that transfers of weapons or munitions should be halted if there is evidence (as is the case in Syria and elsewhere) that they are likely to be used in a serious violation of human rights; for example, in suppressing peaceful demonstrations; and that the Treaty must cover all types of conventional weapons and equipment, all transfers and all transactions. The Treaty must also regulate trade through middlemen, not only direct transactions between states.
View latest posts