Remembering Nazanin at Christmas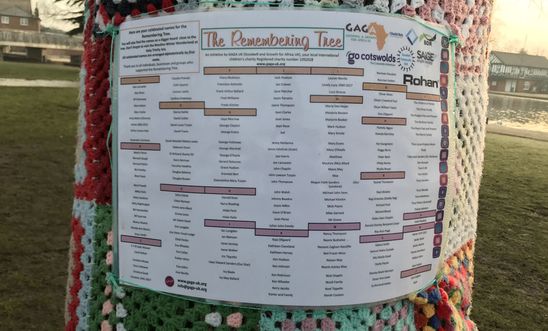 This year a member of our Stratford on Avon Amnesty group has subscribed to 'The Remembering Tree' on the Bancroft Garden to remind us that Nazanin Zaghari-Ratcliffe has not been forgotten even if she has to spend another Christmas away from her family in an Iranian prison.
The Remembering Tree is a colourful and warming celebration of those we love and is a place to remember, reflect and celebrate. Trees are 'yarn bombed' and decorated with knitted squares and baubles which light up some of our town's public places. It is organised by GAGA, Goodwill and Growth for Africa and supported by local business and group donors.
Nazanin Zaghari-Ratcliffe is a 38-year-old British-Iranian woman who ordinarily lives with her husband and toddler daughter in London. Right now, she is in an Iranian prison, separated from her young family. In Spring 2016, Nazanin took her daughter Gabriella to Iran to visit her parents – Gabriella's grandparents. Nazanin had made the trip many times before without any problems. But this time, she was arrested at the airport as she was about to board the plane home to the UK. She wasn't told why.
Nazanin is serving a five-year prison sentence for false charges of 'membership of an illegal group'. This is apparently in relation to her work for the Thomson Reuters Foundation, a UK-based media charity, where she was working as a project manager when she was arrested. There is no evidence that Nazanin has done anything wrong – her job is in no way illegal!
View latest posts