Together for Syria event at Wilmslow High School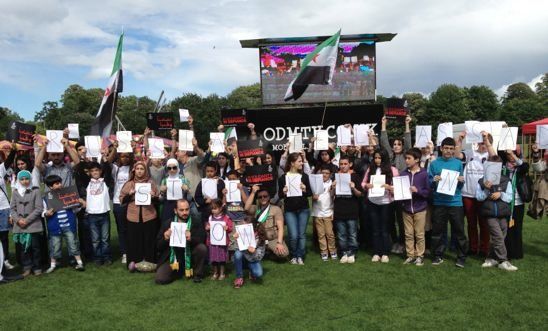 What a great event on Saturday at Wilmslow High School!  Despite the weather changing its mind every five minutes, there was a tremendous turn out for "Together for Syria", an event to raise support for the Syrian people.  There were stalls, some great food, music, a funfair and a great sense of positivity.
The event, co-sponsored by Amnesty, included an action in which people held up a message to Russia: "RUSSIA STOP ASSAD KILLING NOW"
We collected dozens and dozens of signatures on a letter to the Russian Foreign Minister, asking him to stop the supply of weapons to the Syrian authorities. 
It was nice to meet up again with our new friend Amro, who had kindly been to our group meeting a couple of weeks earlier and given us all a lot of food for thought with a terrific talk about life back in his Syrian homeland.
Many thanks to Amro and Michelle from Manchester Group who did a great job in preparing for the event, and did a particularly impressive bit of organising to get the action to come off successfully!  And thanks to everyone who supported the event by just turning up, and particularly those who took part in the action and the many who signed the Amnesty letter.
This is the second year that this event has been held; we hope it won't be necessary next year, but if it is, we recommend that you come along for a great time and a great cause.
View latest posts