Supporting the Women of Afghanistan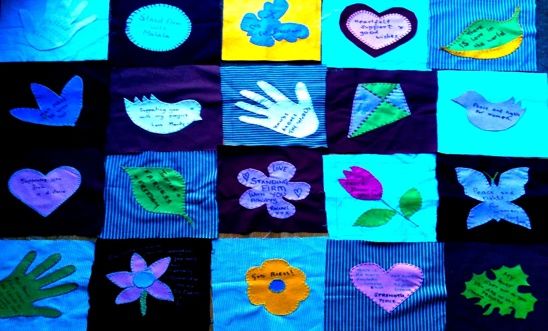 Late last year, Amnesty Stockport took part in a national campaign to draw attention to the appalling violence being perpetrated against women in Afghanistan, a country which has been called the most dangerous place in the world to be a woman.
To publicise the situation, Amnesty campaigners across the country contributed to an enormous patchwork quilt containing messages opf support and solidarity.
The patches - including over 20 from Stockport Group, shown above - have been collected up and the assembled quilts are being sent to the Afghan Women Skills Development Centre (AWSDC)  and Women for Afghan Women (WAW) to be displayed in their shelters.  We hope they will bring encouragement and support to the staff and residents.
Please read more about the desperate situation that so many Afghan women face, and send a message to your MP asking them to make sure that the UK supports women's rights and women's rights campaigners in their country.  You can do so at this page on the Amnesty web site.
View latest posts