Stand with Afghan women to end violence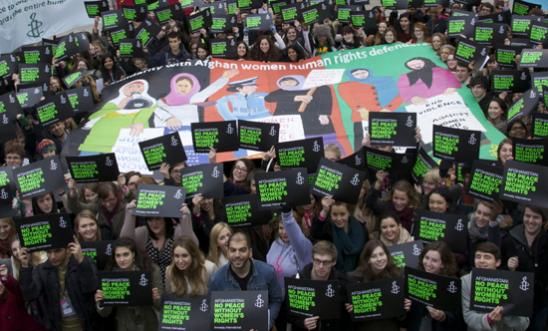 We'd very much like to thank Hazel Errey from Manchester Group, who came to our May monthly meeting to talk about Amnesty's campaign to highlight the problem of violence against women in Afghanistan, particularly when international forces leave in 2014.
Amnesty's campaign has four main aims:
Afghan women should take part in peace and reconciliation processes.
Women's rights should be protected and promoted as security is transferred from international to Afghan forces.
Tackling violence against women should be a key priority for the Afghan government and its international partners.
The work of Afghan human rights defenders should be supported, and their rights protected.
Since October 2011 Amnesty has campaigned for the UK Government to support women's rights and participation in the peace process, including at conferences in Bonn, Tokyo and Chicago.   The hand-made kites and on-line petition resulted in more than 130 MPs responding to letters and the Afghan Women's network was the focus of the "Write for Rights" events in 2011 and 2012.   Now Amnesty aims to broaden its campaign into the four areas above and create a set of recommendations for the UK Government.
There are positive signs.  A law called "Elimination of Violence against Women" has been passed, access to education for girls has increased, there are more women MPs, and equal status for men and women has been written into a new constitution.
However there is concern that these gains could be lost as the Afghan Government takes responsibility for security and seeks reconciliation with the Taliban.   The High Peace Council only has 9 women out of 70 members and includes former warlords that have been linked to past human rights abuses.
Violence against women is in large part due to domestic violence.  It should be noted that we strongly reject any claims that violence against women is "cultural" or can be condoned in any way.
There has been an increase in attacks on women human rights defenders, for whom 2012 has been reported as "one of the deadliest years".  Many are currently hiding or have fled for their lives.
Amnesty is concerned that during the transition to Afghan control, women's rights will not be given enough time, attention or resources.  It is asking for an increase in the number of women in security forces and police as it sees this as a key to improving women's rights protection.
Amnesty wants members to write to their MPs to encourage Baroness Warsi to take action in support of women's rights in Afghanistan.  Please
visit this page
and join in.
View latest posts