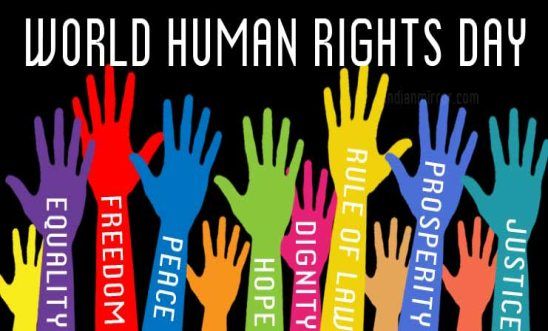 December 10th is Human Rights Day.  Every year, Human Rights Day is marked around the world, to commemorate the anniversary of the Universal Declaration Of Human Rights (UDHR).
This year, Amnesty International Stockport Group is holding a couple of events around Stockport, focusing on two articles of the UDHR in particular:
Article 26: Everyone has the right to education.
On Friday, December 7th between 10AM and 1PM we'll be at St Mary's Church, Market Place, Stockport, with our famous display boards and some of the greetings cards that we'll be asking people to sign.  For example, we'll be asking for signatures in support of Malala Yousafzai. Malala is a 15-year-old schoolgirl from Pakistan.  She is well-known as a campaigner for education for girls, and for writing a blog for the BBC about life under the Taliban.
On October 9th 2012, Malala was shot in the head and neck in a reprisal attack by Taliban gunmen.  Fortunately she survived, and is now recovering in the Queen Elizabeth Hospital, Birmingham.
We'll be sending Malala messages of support, as well as collecting signatures on a letter to the Pakistan government asking it to protect people who speak out for human rights in the country.
Article 25: Everyone has the right to a standard of living adequate for the health and well-being of himself and of his family
At lunchtime on Monday 10th December we'll be at Blackshaw's Cafe, 28-30 Market Place, Stockport, and there'll be the opportunity to chat to us and sign cards of support for various worthy causes.  We'll also be walking down the the Wellspring, the resource centre for homelessness, for a visit and to lend our support.
View latest posts