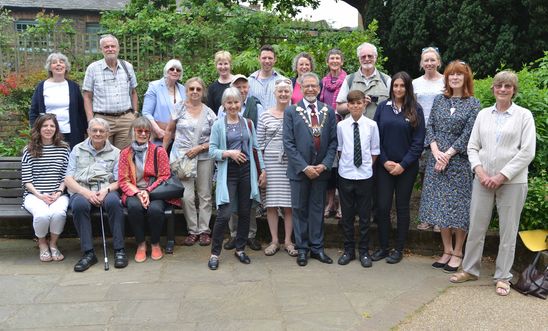 St Albans Amnesty International Group.
Welcome to the St Albans group of Amnesty International.
We currently alternate between meeting online (via Zoom) and in person (we currently meet at Trinity United Reform Church in St Albans) every first Wednesday of the month at 7.30 pm. If you would like to join us, please contact our secretary Louise Chick for more details.
Some of the members have been working for AIUK for many years (all members are volunteers) but some have joined recently.
At each meeting, campaign actions, referred to groups by AIUK, are introduced. Background details are circulated for the writing of individual campaign letters at home and there are usually campaign letters for the group to sign jointly, including an action relating to the current month. There is discussion of current political and human rights issues and of fund-raising for AIUK. We have monthly guest speakers.
The group has adopted certain human rights areas for continuous attention and individual group members look after individual areas.
The group aims to:
campaign with letter writing and lobbying

raise local awareness about human rights

organise events and stalls

fundraise
The present members hold office in the group:
Chair:                 Rotates through experienced members
Secretary:          Louise Chick
Treasurer:          Maria Foster
Media Officer:    Judy Jacques
If you decide to stay with the group there is a small annual group subscription, which at present is £20 waged and £5 unwaged.
Amnesty International UK campaigns which this group acts upon:
Anti Death Penalty Project 
Women's Rights
Children's Human Rights
Human Rights in the UK 
Refugees
Syria
Turkey 
Israel/Palestine 
Gulf States 
Mexico & Central America 
North America & Caribbean 
China and East Asia
Our adopted individuals at risk / case file: 
Women's human rights defenders in Saudi Arabia