And what a good concert it was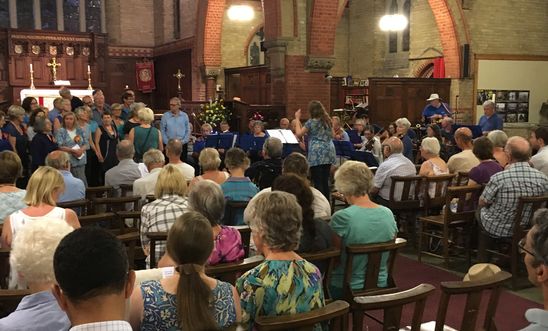 The Blue Sky Choir and the Souhtampton Folk Orchestra performining togehter at the "Music for Refugees" concert © John Williams
MUSIC FOR REFUGEES (20TH JUNE)
Music for refugees was not only an opportunity for the audience to be entertained by the splendid Blue Sky Choir, Salty Sea Dogs and the Southampton Folk Orchestra, but a chance to reflect on the 21 million refugees outside their countries and as many as 40 million displaced persons. What better way to reflect on their plight than to listen to the words of one of the songs, "Te dumela/We are one", with the refrain: "We're living under the same sun, we're sharing the same earth, we're sleeping under the same stars, and we are one".
A large appreciative audience on Tuesday evening both enjoyed themselves and also gave generously so that Amnesty International's Refugee Campaign, Clear and The Southampton and Winchester Visitors Group benefitted. Many also signed cards of welcome to refugees and a petition asking our Government to "Keep refugee families together".
This concert was held as part of Refugee week (coordinated by City of Sanctuary) and was organised by Southampton Amnesty International Group, who were extremely grateful to all the artists, Christchurch Freemantle for their warm welcome and the wonderful audience.
View latest posts