Amnesty visit to the Royal Victoria Military Hospital site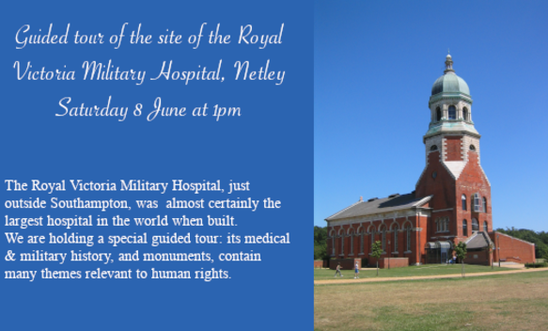 © GD - Wikipedia
The Royal Victoria Military Hospital, just outside Southampton, was  almost certainly the largest hospital in the world when built.  It then more than doubled in size during the first world war to cope with the numerous casualties. 
We are holding a special guided walk of the site, now Royal Victoria Country Park, Netley.  Its medical & military history, and monuments, contain many themes relevant to human rights.
Come and see what remains on this private tour for Amnesty supporters, with our own Gareth Davies as guide. 
Afterwards it should be possible to visit the grade 2* listed chapel which has recently reopened after a £3.5m restoration – or the onsite café or nearby pub!
Details:
Saturday 8th June, starting at 1.00pm (duration 1½ - 2 hours).
£5 donation to Amnesty please.
Please get in touch by emailing AmnestySouthampton if you would like to come.  We are looking forward to seeing you.
View latest posts