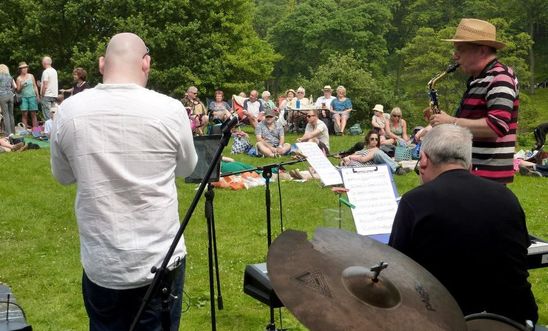 What a super day out we all had on 12 July!
The musicians spakled, the choirs were brilliant and the sun shone.
Mr Tooley, hot-foot from Glastonbury, played a wonderful selection of music that quietly emphasised the human rights theme of the day, Ian Chalk played compellingly and, having opted to take the train, drank his fair share of the beer kindly supplied by Wold Top Brewery, the Funky Choir and the SJT Youth Choir, both beautifully directed by Mark Gordon, lifted everybody's spirits, while Tom Townsend and his band entranced us all.
And, of course, we mustn't forget Mike Gordon, who, as well as playing, organised most of the day. We owe him a lot of thanks, as we do to all the other people who played their part.
Thank you too to all the people who sent "Stop Torture" postcards or who came to find out more about Amnesty International.
The best moments for me? The two mums who said to me what a super and safe place it was to bring the children to and a sudden realisation about halfway though the day that, if I were a prisoner of conscience, this would be the kind of event I would like to come to on my release.
Thanks everybody.
Rod Heath, Secretary, Scarborough Amnesty Group
View latest posts