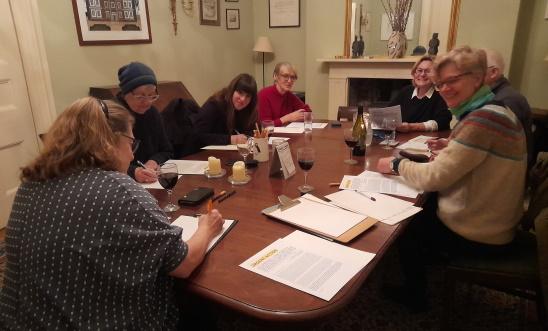 Action: Letter writing
We met on Tuesday 15th February to write letters about the following cases:
CHINA:
Gao Zhisheng, a former prisoner of conscience and human rights lawyer, is subject to enforced disappearance. No information about his whereabouts are know since he was taken away from his home in Yulin City, Shaanxi, northwest China, on 13 August 2017.
RUSSIAN FEDERATION:
On 20 January, Zarema Musaeva, mother of a human rights lawyer from Chechnya, was abducted from her apartment in Nizhnii Novgorod. Later, Chechen authorities confirmed that she was in their custody but refused her lawyers permission to see her. She has committed no crime and must be released immediately.
IRAN:
Iranian political activist Abbas Vahedian has been sentenced by revolutionary courts to 21 years' imprisonment solely for his peaceful activism for a democratic, secular Iran. Ministry of Intelligence agents are holding him in prolonged solitary confinement at an informal detention facility where he is denied adequate healthcare, bedding, warm clothing, fresh air and regular family visits. We call for his immediate release.  
To find out more about these prisoners, please click on the downloads at the bottom of the page.
Other local action
If you have a particular interest in the human rights situation in Morocco, then you might like to join a Zoom talk by Amnesty's Country Coordinator for Morocco, Beverley Foulkes-Jones. 
This is being organised by the Ipswich Amnesty Group. It will start at 7.30pm this Wednesday 16th February. If you'd like more details, get in touch with Pam via the CONTACT box on the Saffron Walden group page.
Campaign news from Amnesty International UK - Campaign to defend the Human Rights Act
In December, the government announced a consultation on the future of the Human Rights Act (HRA). Their proposals go far beyond the recommendations from their own panel of experts and threaten to undermine human rights protections in the UK for everyone. This is a power grab by the government. The proposals would dramatically weaken people's ability to hold the executive to account and defend themselves from rights violations by the state. They would place huge power in the Executive, at the head of a large parliamentary majority, and would put the less powerful or influential in society in a vulnerable position.
We are busy preparing a defence of the HRA but as the government is asking through their consultation what people think about these proposals we thought we should tell them! We will be asking groups and members to fill in the government consultation. There should have a link to this live on our website from the 14 February so please do look for this after 14 February.
Downloads
View latest posts