The Price of Photography exhibition for Shawkan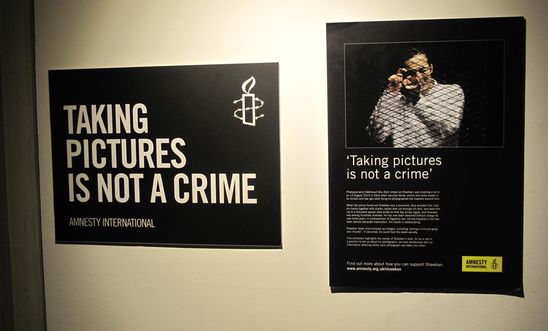 On the evening of Friday 16th March, we opened a free exhibition – The Price of Freedom: 1,500 Days Behind Bars – at the Watermans Arts Centre, 40 High Street, Brentford, TW8 ODS.
Thanks to all those who came along, including local MP, Ruth Cadbury, to see a selection of powerful images created by Prisoner of Conscience, Egyptian photojournalist, Mahmoud Abu Zeid, otherwise known as Shawkan.
Visitors also participated in a photo petition and signed letters and cards to the Egyptian Government, urging Shawkan's release.
We are grateful to Watermans Arts Centre and their staff for allowing us to use their premises and for their support in planning and setting up the exhibition, also to those Amnesty members who worked extremely hard on this project.
The exhibition will be on display until 9th April 2018, and some photos of the opening night are available below.
Downloads
View latest posts