Events in January and February 20017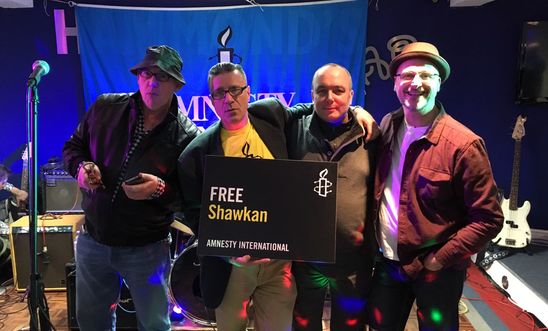 On Thursday 11th January, we had our first meeting of 2017 at our comfortable new venue, The Twickenham Club.
We were joined by Hugh Sandeman, Country Co-ordinator from Amnesty's North Africa Team, who talked to us about the three-year imprisonment of the Egyptian photojournalist, Mahmoud Abu Zeid, otherwise known as Shawkan, who was arrested by the Egyptian authorities while taking photos at the Rabaa massacre August 14, 2013 in Cairo. 
Following Hugh's talk, we decided to feature Shawkan at our Amnesty Benefit Band Night the following Saturday to raise the profile of his case.
The Band Night was a terrific success, thanks primarily to the generosity and helpfulness of the three Bands, The Bitter Springs, Asbo Derek and We Happy Few who played to a large and appreciative audience. We are enormously grateful to The Hammonds Bar, Hampton, who gave us free access to their premises and also to our compere,  Anthony McConnell ,  who performed without charge in support of Amnesty.
Our Raffle went extremely well, thanks to all those who donated prizes, but especially to Sarah Wills, longstanding R&T member, who tirelessly scoured Richmond and Twickenham stores, thereby receiving many great contributions.
Finally, we thank R&T member Catherine Dolan and Simon Rivers, lead singer of The Bitter Springs, who together masterminded the event.
Altogether, we raised £1,706 in aid of Amnesty's work. 
We also collected a photo petition in support of Shawkan and this was sent to the Egyptian authorities just before his trial the following week. 
Our February monthly meeting will be  from 8pm - 9.30pm on Thursday, 9th February at The Twickenham Club, 7, Church Street, Twickenham, TW1 3NJ. 
At this meeting, Krisztina Sáróy, Country Coordinator from the West and Central Africa Team: Burundi, Cameroon, Democratic Republic of the Congo and Rwanda, will be talking to us about women's rights, including sexual and reproductive health, and also updating us on the campaign against child marriage in Burkina Faso.
All are welcome to join us at this meeting.
View latest posts