Perth Group joins Climate Justice march during COP26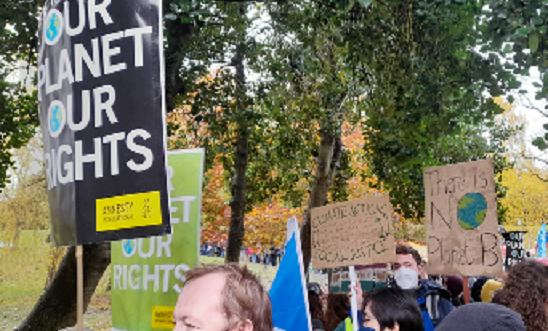 COP26, the UN's annual Climate Change Conference of the Parties, is in Glasgow 1-11 November 2021.  
Climate change is clearly a human rights issue.  Our human rights are dependent on a healthy planet. Global warming has a harmful impact on our rights, including the rights to life, health, food, water, housing and livelihoods. It will lead to more conflicts and displaced people. The impacts of climate change are unevenly distributed with the lowest emitters of greenhouse gases already feeling the biggest effects. Environmental activists in many parts of the world face violence and persecution by governments and corporations.  
On a wet and windy 6 November Perth Amnesty Group members took part in the massive Climate Justice march through the streets of Glasgow, with 100,000 others, calling on Governments across the world to take strong action to 'keep 1.5 Degrees Alive' and provide financial help for those most affected by climate change.  
View latest posts