The Nine Fourthousander Challenge 2021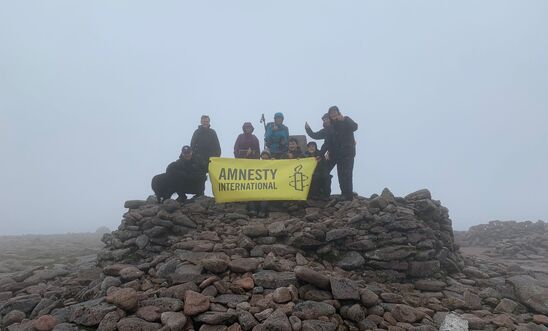 © Barrie Rutherford
The Nine Fourthousander Challenge
We wish to extend a great big thanks to all Amnesty Members and supporters who took part in our Fund Raising Challenge to climb the 9 Scottish Mountains that rise above four thousand feet.
We were delighted to raise over £1300.
The first Group effort to take up the challenge took place in mid August in the Cairngorms when Ben Macdui, Cairngorm and Braerich were all climbed. It was a great day out, although, as can often be expected, the summits were shrouded in mist. Nonetheless during breaks in the weather the views from the Cairngorm plateau looking down into the awesome Lairig Ghru and the Glen floors far below were breathtaking.
Later in August some other Challengers tackling these peaks on their own did enjoy much better weather, but summit mist was the prevalent feature of all future climbs.
At the end of August two other Groups between them climbed all the peaks in the Ben Nevis Massif but despite ever present summit mist still enjoyed fantastic views from the lower slopes over to Loch Linnhe, the sea loch by Fort William and the Inner Hebrides. And summit mist did not detract from the Group's sense of achievement on reaching the
summit of Ben Nevis, the highest of the Fourthousanders, or lessen the excitement, thrill and trepidation when peering over the top of its 2300 ft. cliffs and gulleys.
The final Group effort took place in September to climb the remaining unclimbed peaks of the Challenge - the remote Cairn Toul and Sgor an Lochain Uaine -in the Cairngorms. Unfortunately, the Mountain Weather forecast for gale and hurricane force winds with snow showers at the summits proved pretty accurate. This made for very slow progress and
with time running out to get back down before dark, the effort was abandoned. Another go at them in 2022 is earmarked. (but only on a good clear windless mid- summer's day!!).
We hope you can join us for our next Fund Raising Challenge in 2022.
Barrie Rutherford
Perth Amnesty Group
View latest posts