Join Perth Amnesty's Fundraising Challenge 2021!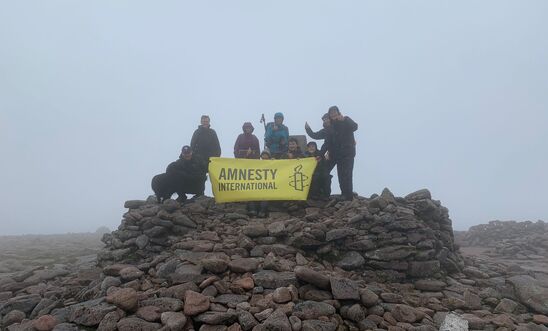 Perth Amnesty Group Fundraising Challenge 2021
The 9 Four Thousanders
Our Fundraising Challenge is to climb the 9 Mountains in Scotland (Munros) that are over four thousand feet in height. 
So far members of our group and supporters of Amnesty International have climbed 6 of the Fourthousanders raising more than £1200 to date!
The plans are to climb Braeriach, Cairn Toul and Sgor an Lochain on 2nd and 3rd October, anyone  interested in taking part will be very welcome. 
If you want to find more about the Challenge and how to donate please go to:https://www.justgiving.com/fundraising/perth-amnesty-group-fundraising-challenge
The Ben Nevis Massif 
Ben Nevis 4413ft ;  Aonach Beag 4049ft ; Aonach Mor 4004ft ;Carn Mor Dearg 4003ft 
The Cairngorm Mountains
Ben Macdui 4295ft; Braeriach 4252ft; Cairn Toul 4236ft; Sgor an Lochain (The Angel's Peak) 4127ft; Cairngorm 4084ft
NB. All challengers however, should fully assess the risks involved in taking part and, in particular, ensure they are properly equipped for walking and climbing over rough mountain terrain and clothed in anticipation of very poor weather conditions. Taking on the full Challenge should only be attempted by experienced hill climbers and walkers.
View latest posts