Festival of Social Justice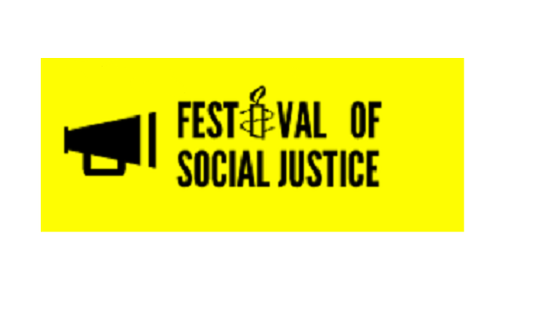 Oxford City Amnesty International group is to take part in an online Festival of Social Justice featuring talks, music, debates and celebrations which will be streamed into people's homes.
The Festival of Social Justice between April 16 and May 31 brings together 40 local Amnesty International groups across Central England in an exciting programme of events for all ages. These include speakers, music, poetry evenings, photography exhibitions, theatre, panel discussions and the chance for local activists to 'stand' on a virtual soapbox and share what social justice means to them.
The festival also involves other Amnesty International activist channels and many other community organisations – all participating to spread the word about social justice and human rights and to engage as many people as possible in campaigning actions.
As part of the wider festival, Oxford City Amnesty is organising two live online events:
MPs speak out and listen in: a session with Oxford MPs Anneliese Dodds and Layla Moran
Friday 30th April, 2.00-3.00pm
Anneliese Dodds, Labour MP for Oxford East, Shadow Chancellor of the Exchequer, and Layla Moran, Liberal Democrat MP for Oxford West & Abingdon, Liberal Democrat Spokesman for Foreign Affairs & International Development will be in conversation, discussing the wide range of human rights issues facing us today.
You can register for this event at: https://attendee.gotowebinar.com/register/7210241427080097038 For more information contact: chair@oxfordamnesty.org.uk
Global Trade: Addressing the Human Rights Implications
Monday 17th May at 7.30pm
Dr Nada Awad, (Al-Shabaka & the Cairo Institute Human Rights Studies), Ms Nabila Khan (Amnesty's Country Co-ordinator China & Taiwan) and Mr Peter Bentley (Oxfam) will be looking at the issues and tensions surrounding global trade and human rights, e.g. enforced labour, companies operating in illegal Israeli settlements, women's rights, sustainable fashion.
You can register for this event at: https://attendee.gotowebinar.com/register/2538776060787823632 For more information contact: secretary@oxford-amnesty.org.uk
All events for the Festival of Social Justice are free but advance booking is recommended. Find a full programme and booking information here: https://www.amnesty.org.uk/groups/central-england
View latest posts