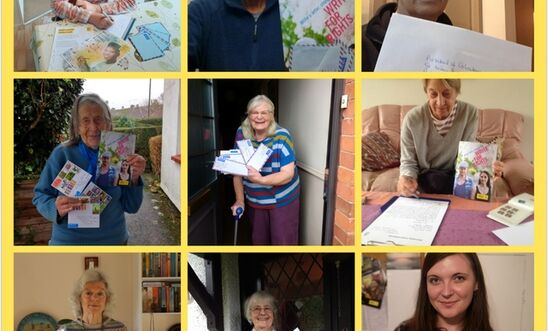 Writing letters from home for W4R 2020
Local members and their friends have been busy writing letters as part of Amnesty International's annual 'Write for Rights' campaign which was launched on 1 November. The campaign supports 10 individuals facing human rights abuses in different parts of the world. Local Amnesty group chair, Alison Dietz, said 'Letters sent from West Somerset will support people in their time of need and help change their lives. During last year's campaign, more than 6 million messages of support were sent from around the world. Each letter made a huge difference to people who had put their lives and liberties on the line. We hope we can do the same this year – despite the pandemic!'
Cases featured in the campaign – which is supported by players of the People's Postcode Lottery – includes:
Gustavo Gatica from Chile

, a 22-year-old psychology student who was protesting against rising prices and inequality when he was struck in both eyes and blinded by police firing rubber and metal ammunition;

Nassima al-Sada, a prominent Saudi Arabian activist

detained for over two years for peacefully defending women's rights; and
a group of Turkish university students, who are facing trial and a prison sentence for organising a peaceful sit-in to protest the cancellation of their annual pride march.
This year, because of Covid restrictions, the usual coffee morning and letter writing sessions in Minehead have had to be cancelled. But members have been writing letters at home and they invite others to join in bysending a card, email or tweet of support to the ten individuals or groups of people whose freedoms are being denied. Letters can also be written directly to those in power to demand an end to the abuses. Local campaign coordinator, Susan Mew, said 'The simple act of sending a messages of hope and solidarity to brave individuals who have been jailed or intimidated for defending their rights, can make a huge difference to them. And when letters pile up at the doors of the authorities, those in power will feel pressured to stop the abuses.'
The campaign continues until the end of December, so there is plenty of time to join in. For more information, email amnestyminehead@gmail.com or download the W4R booklet below.
Downloads
View latest posts