Wonderful concert raised £700 for Amnesty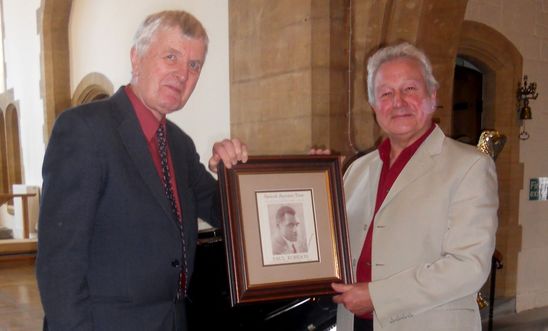 Keith Jones and Huw Morgan with a picture of Paul Robeson © C Lawson
On the afternoon of Sunday 17 September the Minehead Group was delighted to host a wonderful lecture-recital entitled 'In search of "Ol' Man River" - the life and music of Paul Robeson'. Arwell Huw Morgan (bass) sang songs which Robeson loved to sing as well as those he is well remembered for. In between the songs Huw talked about the singer's life. He was accompanied on the piano by Keith Jones, a well-known local musician and accompanist.
The church was packed, and everyone was moved by the story of Paul Robeson's indomitable spirit, his struggles and achievements, not least in civil rights. Huw and Keith held the audience spell-bound, making us laugh and, at times, bringing us close to tears. During the interval, over tea and cake, the audience was buzzing about the treat of hearing such wonderful music in Minehead.
Arwell Huw Morgan has had a long career as a bass opera singer, including lead roles with English National Opera, Welsh National Opera and other major companies. He now lives in Somerset and was glad to give this concert in aid of Amnesty International and its work for human rights. We are all delighted that the concert raised over £700 for Amnesty.
View latest posts