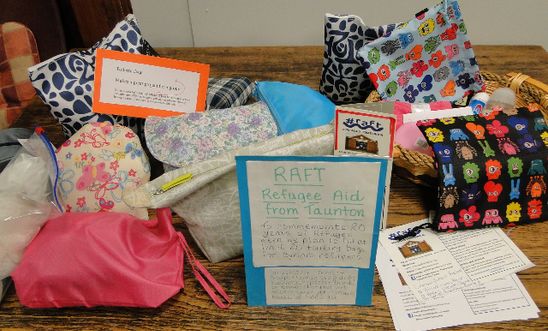 Bags of toiletries ready to send to refugees © A Dietz
Refugee Week is 20 years old this year. Although the actual week is not until 18-24 June, the Minehead Amnesty International Group has already started on its contribution to the '20 things' challenge. We set ourselves the target of putting together 20 bags of toiletries to take to Refugee Aid from Taunton (RAFT), as these are particularly needed by refugees. And we have already exceeded our target!
More contributions are always welcome. Items you could include in the bags are: soap, tooth brush, toothpaste, flannel, soap dish, wet wipes, bacterial hand wash, comb or brush, shampoo, small packets of tissues. Completed bags can be left in St Michael's Church Alcombe. But please also let our group know what you have done so that we can keep a tally of our total! (See group contact on the front page of our group's website.) There is also further information about this action in our group's May newsletter.
View latest posts