Minehead Group's October newsletter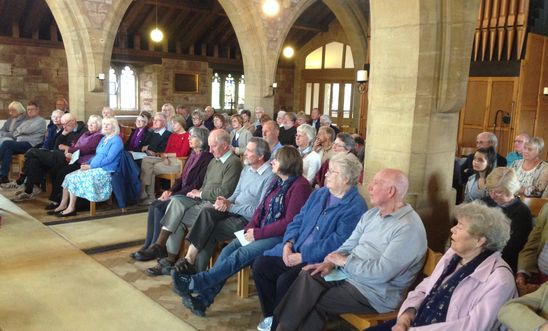 The spell-bound audience at our afternoon musical concert © R Dietz
August and September were busy months for our Minehead Group, and our latest newsletter includes write-ups of our stall at Allerford Fair, the group's summer social event, and the fund-raising concert. Also included is an account of our latest group meeting when County Councillor Frances Nicholson, Cabinet Member for Children and Families, came to speak. As part of her portfolio, Frances is responsible for the Council's  response to the Vulnerable Syrian Persons Resettlement Scheme. The meeting was very informative and we were pleased that it was well attended and included members of our local Refugee Support Group.
Members have also been out and about recently, taking up opportunities to learn about human rights. One member went to the Budleigh Salterton Literary Festival to hear Dr Shirin Ebadi, the Iranian lawyer, human rights activist and recipient of the Nobel Peace Prize. And several of us went to see 'The Landings', a complex production performed locally in fields, on tracks and along the beach. It involved lots of walking and various routes, with the audience following different groups of players. It was a thought-provoking and moving portrayal of refugees and their dangerous, and often tragic, journeys. A longer account of this experience is attached.
Finally, the newsletter includes our regular items of: actions you can take this month, diary dates and campaign updates.
Downloads
View latest posts