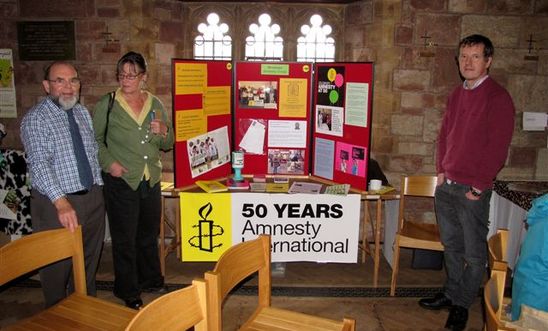 Amnesty information stall at a community event in Minehead
At our monthly meetings, we aim to focus on a particular topic during the first half and then cover 'business' and future planning in the second half. Over recent months, we have had sessions on control arms, women in Afghanistan and a debate on the death penalty. We have regular information slots on our various campaigns. These currently include Equatorial Guinea, security and human rights, and women and human rights. We are also about to start on a new campaign 'In defence of human rights in the UK'. Several members do 'urgent actions' about people facing execution and sometimes we work together on death penalty cases.
As well as our monthly meetings, we arrange various awareness-raising and fund-raising events during the year. For example, in December we usually have a card signing stall outside the Red Cross Shop on the Avenue in Minehead, to mark Human Rights Day and in March we have a campaigning stall on women's human rights, for International Women's Day. In the first half of 2012 we displayed the Amnesty at 50 photo exhibition in Minehead library and also at West Somerset Community College. Our quiz evening in March 2012 raised £400. For more information on our events see the latest news items on this website or our latest group's newsletter.  
In Amnesty, we deal with very serious issues. But in our group, we have fun too! We are a friendly group with members of different ages and from different backgrounds - all with different skills and interests to share. Being involved in the group is a good way to meet new people and to work together on issues that concern us.
Come along to one of our meetings or events and find out for yourself!
View latest posts