Lots of visitors to our Write for Rights morning - despite the cold!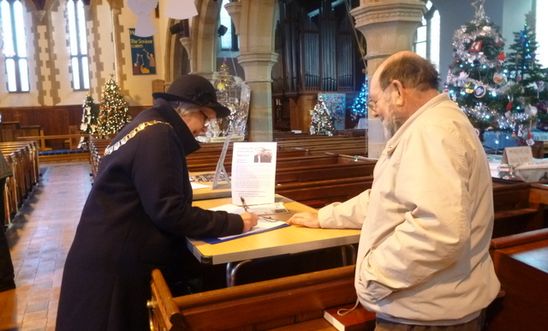 Mayor of Minehead signing cards for the 2017 Write for Rights Campaign © J Walmsley
Despite cold and windy weather, a steady stream of people visited our Write for Rights event inside and outside the Avenue Methodist Church in Minehead on Friday 8 December. We had selected five campaign cases to focus on and invited people to sign greetings cards and petitions for each one. As in previous years, church members had invited us to use their regular Friday coffee morning for our event, so visitors were able to enjoy a warming cup of coffee or tea, as well as find out about the campaign. We also had information on display outside the church and actively invited passers-by to come in from the cold to see what was going on. We were pleased to welcome the Mayor of Minehead, as well as local Amnesty supporters and other members of the public. We achieved between 40 and 45 signatures on each card and raised £67 in donations. In addition, we gave out action cards to those who didn't have time to stop, but were willing to read about the case of Azza Soliman, the Egyption lawyer and human rights activist who could be jailed for 25 years on trumped-up charges.
View latest posts