Keeping up to date with news from AIUK and the international movement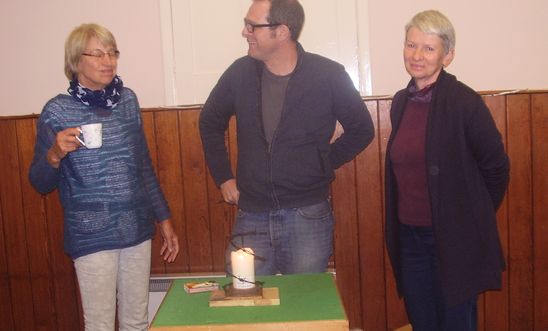 Alison Dietz, chair, Andy Hackman from AIUK and Susan Mew at the April meeting
Our April meeting started with a presentation by, and discussion with, Andy Hackman, who is Head of Community Organising, Events, Human Rights Education and Artist Relations, at AIUK. Andy told us about the work of his teams in raising awareness of Amnesty's work with different sections of the community – including schools, university students, artists and local communities. Whether activists are individual members or group members, we are all crucial to maximising the impact of AI campaigns. We also have a role to play in raising awareness about AI's work and to recruiting new members. In responding to questions, Andy reassured members that Individuals at Risk and long term action files continue to be central to AI's work, and that the recent reorganisations at both the International Secretariat and at AIUK, were beginning to settle down with new teams working in a much more joined-up and focused way.
Andy and Susan also reported on the AIUK AGM held on 12/13 April in Edinburgh, which Susan attended as the Minehead Group's representative. Reem al-Assil, a Syrian human rights activist who is now in exile, got the conference off to a wonderful start with her very moving speech as she lit the Amnesty candle. It was fitting that the conference solidarity action was for Syria. Kate Allen, Director of AIUK, gave her usual uplifting and encouraging annual report. Kate also talked about AIUK's input into the first stage of the consultation about the key themes and direction of the global movement from 2016 to 2019. Decisions around the proposed sex work policy were inconclusive. The light-hearted Activism Awards ceremony on the Saturday evening demonstrated what great things Amnesty members get up to throughout the UK, whether it is awareness-raising, campaigning or raising funds.
You can see a film of the AGM, photos and a full list of the decisions made, on the AIUK website.
 
View latest posts