International Women's Day in Minehead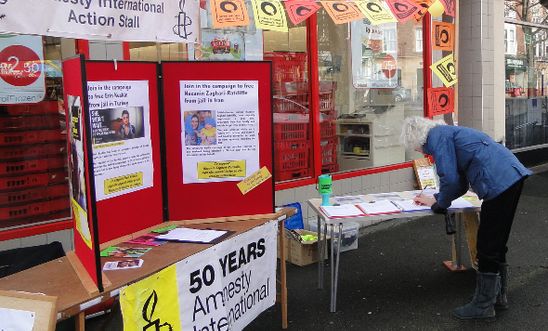 Letter signing stall in Minehead for International Women's Day 2017 © A Dietz
Our annual letter signing stall for International Women's Day drew lots of attention from passers-by. The weather was fine and dry which always helps! Our letters for signing focused on three women: Narges Mohammadi in Iran, Erin Keskin in Turkey and Nazanin Zaghari-Ratcliffe, British-Iranian held in Iran. We also sent a card
to the Zaghari-Ratcliffe family, showing our support. In addition, many people signed the petition about
allowing child refugees into the UK and for their families to join them. We collected about 80 signatures on the letters and card, and received £47 in donations, including two particularly generous gifts. Many of the people we spoke to showed very positive support for Amnesty, and we were pleased to add another name to our local group's mailing list.
If anyone reading this would like to join our group mailing list, please follow the contacts listed on this website.
View latest posts