Holocaust Memorial Day 27 January 2017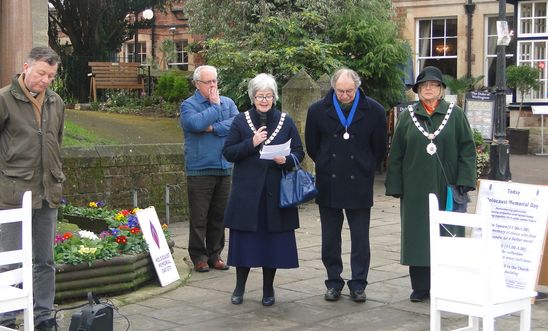 Holocaust Memorial Day 27 January 2017
This was a moving day of events in Minehead.
The day of commemoration and reflection was introduced by the Mayor. Her words included the following:
"27 January marks the liberation of Auschwitz-Birkenau, the largest Nazi death camp. On Holocaust Memorial Day we learn from those who have experienced oppression both during the Holocaust, and in subsequent genocides. We each have an individual responsibility to ensure that differences are respected. We can all contribute towards a safer, better future."
In Wellington Square from 1100 until 1300 we held a vigil. Many people lit candles which were placed on wooden chairs painted white. Each chair had placed on it a large poster with shocking information about the killing of millions of men, women and children in 5 genocides: by the Nazis against Jews and other groups; in Cambodia; in Rwanda,in Bosnia; in Darfur. In the centre of the square, old clothes were laid out on the ground symbolising the pwople so cruelly killed.
In St Andrew's Church, from 1100 until 1500, we listened to live music and readings all of which made us reflect on the horrors of the Holocaust. Elie Wiesel, in his Nobel Peace Prize acceptance speech in 1986, advised that:
"We must always take sides. Neutrality helps the oppressor, never the victim. Silence encourages the tormentor, never the tormented. Sometimes we must interfere. When human lives are endangered, when human dignity is in jeopardy, national borders and sensitivities become irrelevant. Wherever men or women are persecuted because of their race, religion, or political views, that place must – at that moment – become the centre of the universe."
In the evening in St Andrew's Donald Reeves, Director of Soul Europe and former Rector of St James' Piccadilly, gave an inspiring talk on his work of reconciliation in Bosnia after the war.
Banja Luka became the centre of his universe in 2000. He and his team brought together former enemies, persuaded the three main religious leaders (Muslim, Orthodox and Roman Catholic) to cooperate in the interest of peace building, and against the odds, made possible the rebuilding of the ancient and beautiful Ferhadija Mosque. In May last year, twenty-three years after it was destroyed,  the reconstructed mosque was inaugurated.
The closing reading was taken from Malala Yousafzai's Nobel Peace Prize acceptance speech.
"I had two options — one was to remain silent and wait to be killed," Malala said. "And the second was to speak up and then be killed. I chose the second one. I decided to speak up."
We plan to make this an annual event.
View latest posts