Forthcoming events in October, November and December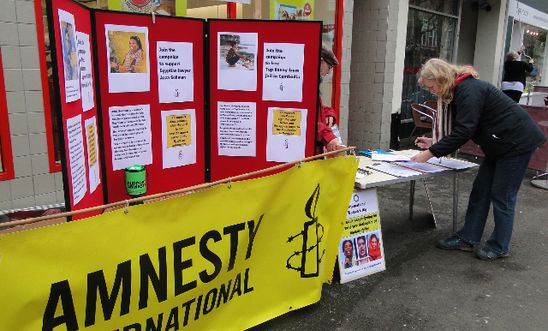 Street stall in Minehead
Our next group meeting will be on Tuesday 15 October at the Quaker Meeting House in Minehead, starting at 1930. We will be hearing about developments in Amnesty's current campaigns. 
On Friday 1 November, Paul Bridges is coming to speak to us about AIUK's Anti Death Penalty Project. This meeting will be at Townsend House, Townsend Rd, Minehead TA24 5RG, starting at 1900.
We will be launching our Write for Rights 2019 campaign with a letter writing afternoon on 14 November from 1400-1530 at the Quaker Meeting House, Minehead. Pens, paper etc will be provided, along with refreshments. This will be followed by a Write for Rights coffee morning on Friday 13 December at the Avenue Methodist Church, Minehead, from 1000-1200. Come along and sign some cards and letters, and have a coffee and chat at the same time. 
Also in December, we will be decorating a tree for the annual Christmas Tree Festival at the Avenue Methodist Church from 5 to 10 December. The festival is jointly organised by the church and Save the Children, to whom donations are sent. This year the theme is the 100th anniversary of the founding of the Save the Children charity, so we will feature cases from the Write for Rights campaign, which this year focuses on children and young people. 
All members and supporters of Amnesty are very welcome at any of our events.
View latest posts