Folk music supper concert raised £380 for Amnesty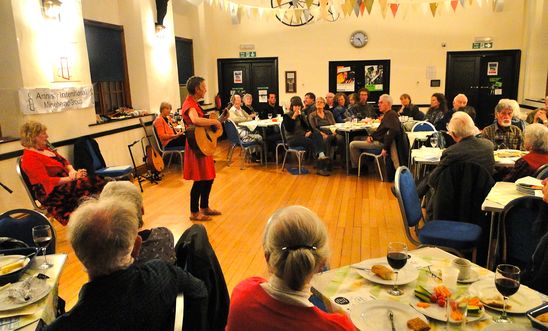 Saffron Summerfield performs at the Amnesty supper concert
Our concert at Roadwater Village Hall on Friday 20 September was very successful.  We all enjoyed some excellent folk music, supper and the company of Amnesty friends and supporters.
The star performer was Amnesty member, Saffron Summerfield, guitarist, folk singer and songwriter. Saffron was supported by Eileen Anne Moore, singer and guitarist, who is well known on the West Somerset folk scene. You can read more about Saffron by looking at her website: www.motherearthmusic.co.uk/
We are very grateful to both Saffron and Eileen Anne for giving up their time and talents to support Amnesty. The event made a welcome profit of over £380.
View latest posts