Commemorating Holocaust Memorial Day in Minehead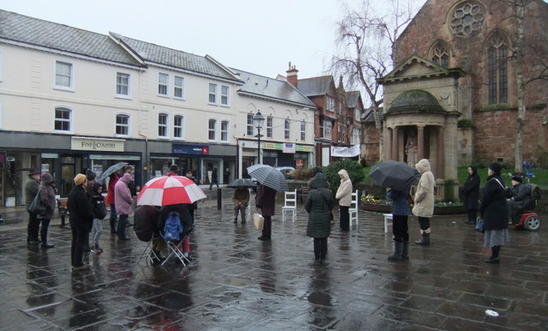 Vigil for Holocaust Memorial Day © S Mew
On Saturday 27 January, members of the Minehead Amnesty International Group joined with others  to remember those who have suffered and died in genocides - such as by the Nazis against Jews and other groups; and in genocides in Cambodia, Rwanda, Bosnia, Darfur, and Myanmar. We marked Holocaust Memorial Day by stating that we oppose prejudice and racism today.
From 12 noon we held a half hour vigil in the rain in Wellington Square. Gradually more people came to join us as we stood in silence, and passers-by stopped to look and read the posters. We then adjourned into St Andrew's Church where Revd Simon Robinson had arranged an exhibition to mark the day. There was also a table where people could sit and write cards to holocaust survivors.
During this quiet time we also enjoyed refreshments kindly provided by members of St Andrew's Church. The event finished with readings and music for remembrance and commitment. The readings were opened by the Mayor of Minehead, who read the first piece, followed by other poems and writings read by members of the Minehead Amnesty Group. Finally we were treated to songs sung by the Minehead Street Choir, which was very uplifting and raised our spirits to finish on a positive note.
Amnesty members were very pleased to have the help of St Andrew's Church and the Street Choir in making this a very worthwhile and moving commemoration.
View latest posts