AIUK AGM and Conference: we were there!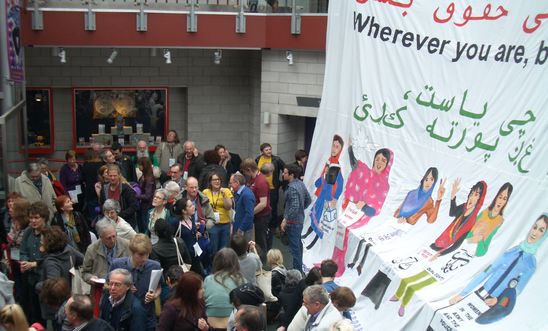 Conference delegates with the banner 'Women's rights are human rights'
Two members of the Minehead AI local group attended the 2013 AIUK AGM and Annual Conference at Warwick University at the beginning of April. Alison and Susan reported back to the group at their next meeting: 'We had a busy two days attending workshops, listening to speakers, taking part in actions and participating in the debates and voting connected with the AGM business. We were particularly impressed by the keynote speaker, Horia Mosadiq, who is an Afghan women's rights activist and Amnesty researcher. Horia spoke movingly and informatively about the challenges facing women in modern-day Afghanistan. We were also keen to hear from two delegates from Zimbabwe who updated us on the situation there and the dangers faced by human rights defenders. Hearing about the immense challenges faced by peaceful protesters and human rights activists in other parts of the world makes us realise how lucky we are to live in the UK.' The Minehead Group has built on the learning brought back by our AGM delegates and continues to campaign on Women's Rights in Afghanistan and for free and fair elections in Zimbabwe - two of AIUK's priority campaigns for 2013.
View latest posts