Refugees Welcome march in London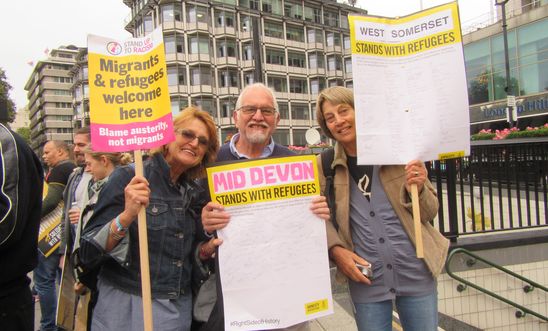 Mid Devon Amnesty marchers Sheila and John supporting refugees in London
Among the thousands of marchers in London on 17 September were two of our Mid Devon members, Sheila and John.
The march highlighting the terrible plight of refugees was timed to send a clear signal to the Prime Minister, represent us all at the UN conference on this subject. We used our 'Mid Devon Welcomes Refugees' poster that many of you signed as a placard throughout the march that wound its way from Park Lane to Parliament Square.
Our MC for the day, Jeremy Hardy, estimated that twenty thousand were taking part from such groups as AI, OXFAM, UNESCO, Green Party, Action Aid, CAFOD, Refugee Council and countless others making up this impressive number.
Passionate speakers including Caroline Lucas, Vanessa Redgrave, David Morrissey, and especially Juliet Stevenson, sent us on our long homeward journeys determined to make our shameful government and our local council take at least some share of this huge crisis.
Downloads
View latest posts