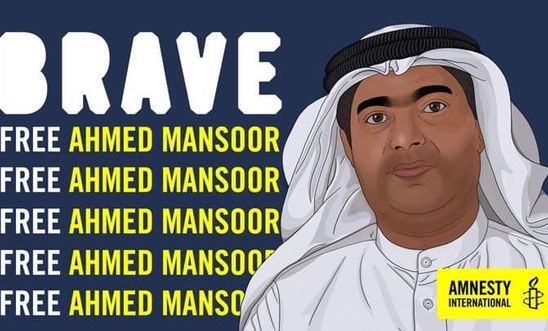 Manchester Amnesty Weekly Action
If you can, please do this action and make a difference.
We would like as many people as possible on our mailing list to take part in our Weekly actions. However, if you are too busy as a key worker or you are currently feeling unwell, please feel free to ignore. The rest of you – Please TAKE ACTION!
This week please send a message to the UAE authorities urging the release of prisoners of conscience during this pandemic, in particular Ahmed Mansoor who we have been working for since his arrest in March 2017  and who is in poor health following repeated hunger strikes. For further information on Ahmed:
https://www.amnesty.org/en/latest/news/2020/03/uae-ahmed-mansoor-unlawfully-detained-in-solitary-confinement-for-three-years-must-be-released/
Please email the Minister of Interior of the UAE, Sheikh Saif bin Zayed Al Nahyan. Here is a suggested message although feel free to alter it or write your own: 
I am writing to ask you to immediately release immediately all prisoners of conscience following the guidance of the UN High Commissioner for human rights, Michele Bachelet, who 'urges quick action by governments to prevent devastating impact of COVID-19 in places of detention'. I plead in particular for the release of Ahmed Mansoor whose health is in a critical state because of his hunger strike protesting the inhumane conditions of his detention. 
History will judge how humanely you respond to COVID-19.
The UAE Minister of Interior website at https://الداخلية.امارات/en/contactus.aspx has a contact us box into which you can cut and paste the message. Alternatively (or as well) you can try the moi@moi.gov.ae, and please copy in the UAE's UK embassy at pressuk@mofa.gov.ae.
If you are on Twitter, you can tweet to @MOIUAE. Use #FREEAHMED.
View latest posts