Manchester Pride Parade 2012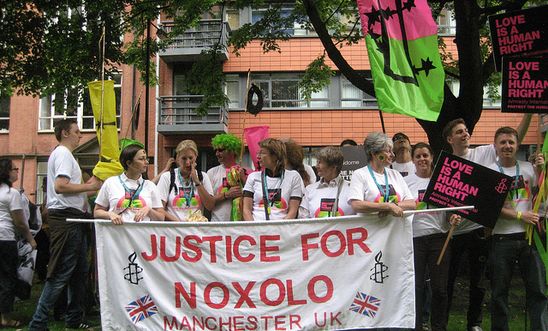 Our banner demanding justice for Noxolo
We had a good presence at the Pride Parade this year with a walking entry which featured a computer screen banner declaring that Love is a Human Right to mark 100 years since the birth of the gay mathematician and computer scientist Alan Turing.
We also put our windsocks, flags, stickers and placards to good use and we carried the banner calling for justice for Noxolo Nogwaza which we made at our last group meeting. This banner has now been sent off to South Africa to be used in the Pride Parade in the region where Noxolo used to live.
She was raped and murdered in April 2011, apparently as a hate crime due to her sexual orientation. Amnesty is calling on the South African police to adequately investigate her murder and to bring the perpetrators to justice.
View latest posts