Stand up for Amnesty Comedy Night - 11 April 2019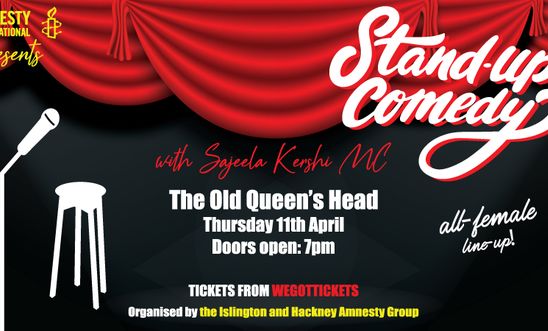 Stand up for Amnesty Comedy Night
Our fantastic comedy night is back, with another powerful all-woman line up set to make you laugh out loud.
Date: Thursday 11 April 2019 
Time: 7pm
Venue: Old Queens Head Islington (44 Essex Road, Islington, N1 8LN)
Tickets available via wegottickets , with all proceeds going to Amnesty International - numbers strictly limited so get your tickets now.
Stand up for Amnesty 2019
Award winning comedian Sajeela Kershi will again be MCing the laughs from an amazing line up featuring:
«  Evelyn Mok Chortle Student Comedy Awards and Leicester Square  New Comedian of the Year finalist
«  Ayesha Hazarik witty columnist, former political advisor and feminist commentator
«  Jen Wakefield stand-up, character and rap as seen in BBC Asian Network comedy showcase
«  Esther Manito British-Lebanese comedian taking the comedy circuit - and competitions - by storm
«  Kate Smurthwaite award wining left wing, feminist, atheist, polyamorous comedian and activist
and
«  Shazia Mirza ward winning British Asian Muslim stand up comedian and writer.
Standing up for Amnesty since 2009
The Islington and Hackney Amnesty Group's annual comedy night began in 2009, in support of Burmese comedian Zarganar, who was imprisoned for making jokes about the country's military regime. Since then it has become a regular fixture in Islington and Hackney, raising thousands of pounds for Amnesty's vital human rights work around the world and sharing joy in our community.
This year's line-up
Sajeela Kershi
Comedian and writer Sajeela Kershi has written for and featured on a variety of BBC Radio and is one of Huffington Post's top 50 funny women to follow on twitter. She is winner of Asian Women of Achievement Award (2015), the Argus Angel Award for Artistic Excellence (2015), a finalist ITV's Asian Media Awards for Best Stage Production (2017) and the Star of Edinburgh Award winning show (Brendon Burns 'So I Suppose this is offensive now'. 200.
"Smart, funny with a mischievous glint"  Times
"Both illuminating and funny as this born raconteur holds her audience enthralled throughout" ★★★★ One4Review
"Insanely magnetic, with charm and wit....wonderful levity on subjects that usually seem serious. The warmth and originality in her act alone makes this show worth a watch" PragueYouthTheatre.com
"Intelligent, inspiring, empowering" ★★★★★ CultureVulture
"Wonderfully inclusive show" ★★★★ BroadwayBaby
Evelyn Mok
Stand-up comedian and actor Evelyn Mok was born in Sweden to a father from Hong Kong and a Chinese mother born and raised in India, Mok challenges pre-disposed stereotypes with an unapologetic style and sharp witted hilarity. Shortly after moving to London, she was quickly selected for the prestigious Pleasance Comedy Reserve and Just the Tonic's Big Value Showcase also garnering finalist positions in the Chortle Student Comedy Awards and Leicester Square Theatre's New Comedian of the Year Award. A seasoned live-act, she performs stand-up comedy across the UK and Europe, most recently supporting Josie Long and Paul Foot on their European tours.
 Really funny, really rude, but also refreshingly honest and smart" Graham Norton
"honest and revealing comedy… both poignant and funny"  ★★★★ ShortCom
"Uncensored, unapologetic and… wildly refreshing" ★★★★ BroadwayBaby
"Seamlessly weaves personal anecdotes with complex cultural and political themes" ★★★★ The Skinny
"Proves herself to have an ambition, originality and wit that augurs well"  The Times
"she's not someone who panders to a room to get them to love her, as proved beyond doubt with a brutal but funny description of her sexual appetite or her period, that carries an inherent 'sod you' to any man who's not comfortable with such talk" Steve Bennett, Chortle
 "Compellingly funny" thelatest
Ayesha Hazarika
Columnist and commentator Ayesha Hazarika is famed for her witty observations. A former political advisor she writes for the Evening Standard, Scotsman, FT and Guardian Statesman and is a regular on CNN, LBC, Question Time and Have I Got News For You. Her new show Girl on Girl – The Fight for Feminism toured the UK in 2018, taking a humerous but honest look at the current state of feminism and tackling #MeToo and the medias obsession with pitting women against women. This followed her acclaimed return to stand up in 2016 with Tales from the Pink Bus. Ayesha lifts the lid on what life was really like behind the scenes at Westminster with brutal honesty and humour and asks what's next for British politics.
"Relaxed, Mischievous and with a mind like a steel trap…go and see what she has to say." ★★★★ Scotsman
"Hazarika's return to stand up is also public service, never less than entertaining" The Guardian
Jen Wakefield
Comedian, Writer, Performer and Presenter, Londoner Jen Wakefield has been performing since 2016 when she took her sketch duo 'Jiggle and Hyde' with her sketch partner to Edinburgh for a full run at the fringe as well as featuring as a comedy extra in 'Beasts: Mr Edinburgh' at the Pleasance Dome. Jen performs stand-up, character and rap in her sets, and finished her second solo Edinburgh run in 2018 by performing her own set at the BBC Asian Network comedy showcase, which aired on BBC iplayer in September 2018.  She has also presented on many different platforms, most recently hosting 'The Comeback' podcast for BBC Radio 1.
Soho Rising festival pick 2017 Soho Theatre
"A bright talent with a proud heritage" LIST
"A keen observer, gifted mimic and frankly move busting dancer" EdFest Magazine
Esther Manito
British-Lebanese comedian Esther Manito  burst onto the stand-up circuit in 2016 and within her first 18 months of performing has already reached the finals rounds of 6 major comedy competitions. As heard on BBC Radio 4, Esther's observational stand-up reflects on how being a mum can be hard work, how being a woman is challenging, how being Arab is tough at times and how being middle class English is….never tough….(unless Waitrose is out of Avocados). Esther ably proves that being all four, can be hilarious.
 So You Think You're Funny Finalist 2017 ★ Bath Comedian of The Year Finalist 2017 ★ Amused Moose Semi Finalist 2017 ★ Leicester Square Comedian of the Year Semi Finalist 2017 ★ BBC New Comedy Award Nominee 2017 ★ Funny Women 'One to Watch' 2016 
"An adept and assured performer"  Chortle
"Esther Manito has a lot of hair and a lot of talent" - Bruce Dessau
"Esther Manito has a sharply observed and carefully honed stand up comedy set, well written and equally well delivered she displays a deft touch along with the ability to draw an audience in and then deliver big laughs, she is versatile, confident and extremely polished, there is nothing about her that suggests she is a 'new' act and indeed she is very comfortable sharing the stage with high calibre professional comics…which bodes very well indeed' – Geoff Whiting – Mirth Control
"Esther Manito : Her Arab roots provide her with plenty of comic material. She is confidently funny and at Arabs Are Not Funny shows she has always showed remarkably good stage presence and audience control."  Aser  El Saqqa – Arts Canteen 
"Esther's material is strongly identifiable if you are a wife, mother and have a strong sense of family.  We need more gritty reality of the feminine kind and Esther tells it like it is!"  Lynne Parker Founder & executive producer @ Funny Women
Kate Smurthwaite
Left wing, feminist, atheist, polyamorous comedian and activist, Kate Smurthwaite also writes for the BBC Three political comedy show The Revolution Will Be Televised. The winner of a Three Weeks Editor's Award at the 2013 Edinburgh Festival.
Kate has appeared as a panelist on Question Time as well as The Big Questions, This Morning, BBC News, Sky News, Woman's Hour, The Today Program, The Moral Maze and Newsnight. She has a regular column in New Internationalist magazine and has also written for The Guardian, The Independent, The Telegraph, The Mirror, Cosmopolitan, Stylist and New Statesman as well as Have I Got News For You and BBC3's BAFTA-winning The Revolution Will Be Televised
"When it comes to political comedy The News At Kate is the cream of the crop" Broadway Baby
"one of the wittiest gun-slingers I've ever seen on stage" The Spectator
"This is a fun show. Proper funny fun... a polished comedy hour." Kate Copstick - The Scotsman
"an inclusive and important narrative on our society ...a brilliant comedian "ScotsGay
Shazia Mirza
Comedian Shazia Mirza has been described as dry as they come, with sharp socio-political sass on anything from Brexit and burkinis to butt plugs.
Her appearances include; 'Celebrities v Child Genius' , 'Travel Man, 48 Hours In…, 'Celebrity Island with Bear Grylls' , 'The Jonathan Ross Show', 'The Late Late Show' and she is a regular panelist on 'The Wright Stuff'/'Jeremy Vine' , Graham Norton Show' , 'Steve Wright in the Afternoon', 'The Now Show', 'Saturday Live' and 'Woman's Hour'.
One of "1000 Most Influential People in London" Evening Standard
"Shazia Mirza is provoking laughter and large intakes of breath once again… brave and urgent" Telegraph
"Vital, deftly handled, rammed with provocation… As brave a piece of comedy as you'll see" Mail on Sunday
"she's effective at getting under your skin… strikes a blow" Metro
"Mirza has stepped up a gear… the bravest thing you'll see on a comedy stage this year… a remarkable finale" Sunday Times
View latest posts