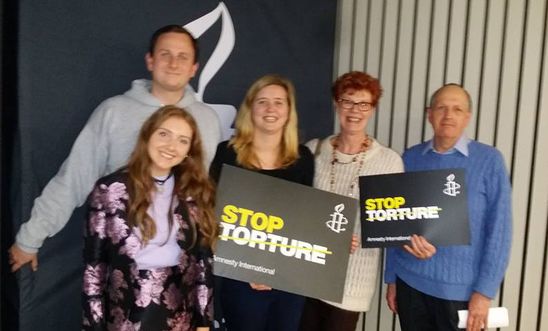 Group members at the Stop Torture Conference
Five of us traveled up to London on a sunny St Valentine's Day to go to AIUK's conference: "Stop Torture:-How Activists Can Campaign for Safeguards".  It opened with a talk by Craig Murray, former UK ambassador to Uzbekistan.  He described his experiences of human rights abuses in the country and his attempts to bring these to the attention of the UK government with no success.  Eventually he was fired by the foreign office. He said the reason for his removal was his criticism of the use of intelligence allegedly obtained under torture by the Uzbekistan Government.
During the morning there were workshops on each of the five cases selected for the Stop Torture campaign. In the afternoon there was a panel discussion of safeguards and strategies that may or may not be working in the countries concerned. The most memorable quote from the conference came from Rhian Beynon from Freedom from Torture who gave us one torture survivor's definitions of torture: "the act of killing a man without him dying".
View latest posts