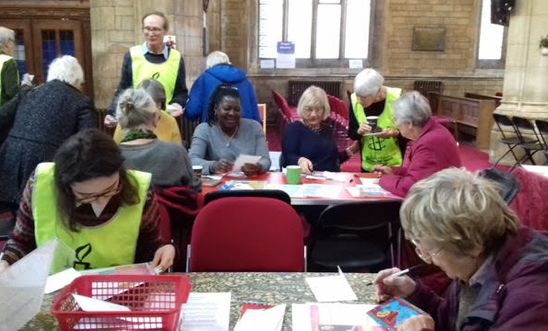 Card signers hard at work - Write for Rights 2019
Hornsey & Wood Green Group - together with Enfield & Barnet Group - once again held a successful Write for Rights afternoon at St. James Church Muswell Hill on Friday, 13th December.
More than 30 people dropped in to sign greetings cards to the victims of human rights abuses identified by Amnesty International in this annual campaign and letters to relevant authorities on their behalf.  Some 105 greetings cards were sent to the nine children and young people from around the world who are standing up for human rights and need support and two campaigns working on their behalf.  In addition, 44 action cards and 120 letters were signed during the afternoon which have been sent to authorities in those countries on behalf of these human rights defenders.
Once again participants were very generous with donations for stamps, which covered over two-thirds of the cost of posting all the greeting cards, action cards and letters to authorities.
The event is part of Amnesty International's unique global letter-writing campaign  that runs from 1st November to 31st December each year.  Those whose cases have been highlighted in previous years tell Amnesty that receiving greetings cards have had a huge impact, letting them know that they are not alone and that others support their struggle.  It also lets authorities know that the world is watching them.
View latest posts