OUR CHINESE PRISONERS OF CONSCIENCE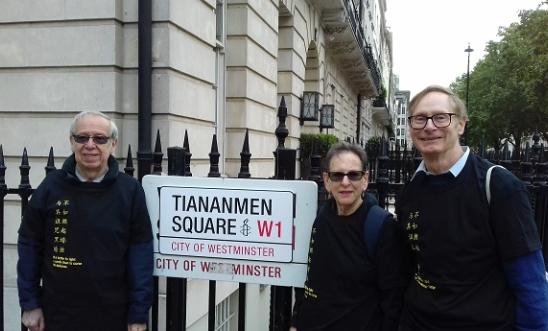 Group officers Francine Miller, Dennis Bradley and Paul Duployen help to mark the 30th anniversary of Tiananmen Square with temporary street signs near the Chinese Embassy in London, June 2019
YILIYASIJIANG REHEMAN
In 2019 our group was given a new Prisoner of Conscience case concerning Yiliyasijiang Reheman.  He is one of about 200 Uyghurs apprehended by the Egyptian government at the behest of the Chinese authorities.  He went missing in July 2017 when he and his wife, Mairinisha Abuduaini, were students at an Egyptian university.  Yiliyasijiang is now at risk of gross ill-treatment.  He is feared to be one of around one million people detained in unacknowledged 'transformation through education' camps in China, allegedly not brought to trial and with no recourse to defence lawyers or the right to challenge the decision against them. 
Our group has set up a letter-writing rota so that a different person each week sends a letter in support of Yiliyasijiang to the Chinese President Jinping and the Chinese Ambassador to the UK, Mr. Zheng Zeguang.
LIU XIAOBO AND LIU XIA
Preivous to Yiliyasijian Reheman, our group had adopted Chinese PoC Dr Liu Xiaobo and also took action on behalf of his wife / widow, Liu Xia.  
Writer, academic and political activist Dr Liu Xiaobo was taken from his home by police on 8 December 2008, just two days before the 60th anniversary of the Universal Declaration of Human Rights, the date he and a group of activists intended to launch a pro-democracy manifesto called Charter 08.  He was accused of posting articles critical of the government on international websites and authoring Charter 08, which calls for greater freedom of expression, political reform and respect for human rights. The Court considered the manifesto "slanderous" and an attempt to incite the subversion of the current regime.  
In December 2009 Liu Xiaobo was sentenced to 11 years in prison and a further 2-year deprivation of political rights for "inciting subversion of state power".  In 2010 he was awarded the Nobel Peace Prize "for his long and non-violent struggle for fundamental human rights in China".  Unfortunately he died on 13 July 2017 after being denied permission to leave the country for treatment of late-stage liver cancer.
His wife, Liu Xia, 56, a poet and artist, had been held under illegal house arrest in Beijing since October 2010.  In 2018 she was allowed to leave China and now lives in Germany.  Amnesty International is, however, concerned that her family in China may be subjected to intimidation.  For this reason, Liu Xia is unlikely to make any public statements about her husband or her situation. 
View latest posts