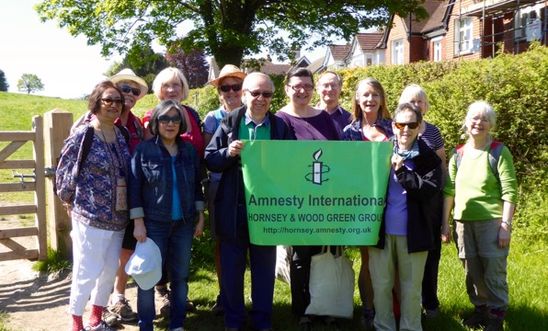 Hornsey & Wood Green members and supporters at the start of the walk around "Happy Valley" © photo by Jane Bywaters
Hornsey & Wood Green Group members and supporters were pleased that the soggy conditions of previous weeks had disappeared by the time we undertook the 7-mile circular walk around "Happy Valley" in south London on Saturday, 5th May.  Starting at Coulsdon South train station, 13 walkers made their way along the downland, an extension of the North Downs, to the Fox Pub for a lovely lunch in the pub garden. 
Highlight of the walk was the visit on the return leg of the walk to Chaldon Church, which is pre-Norman – there has been a church on the site since 675!  The Chaldon Mural on one wall of the church dates from the late 12th Century and depicts the seven deadly sins leading to hell and the "purgatorial ladder" leading to heaven.  Whitewashed over in the 17th Century, it was rediscovered in 1868 and is said to be the most impressive wall painting of any British church.   
The sponsored walk is one of the Group's annual fundraising events, and this year we raised £570.
View latest posts