In Memory of (Francis) Herbert Trent (1919-2016)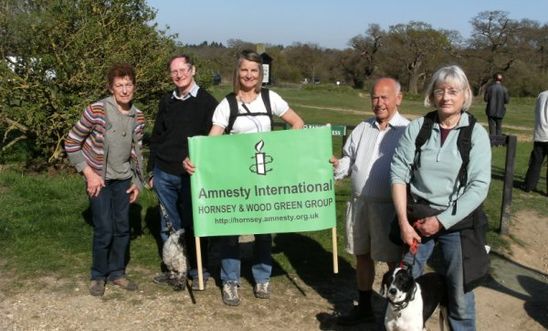 Herbert holding the Group's banner, Sponsored Walk in Epping Forest 2010
We celebrate the life of our long-time member (Francis) Herbert Trent, who died on 26th February (2016) at the age of 96.
Herbert had been a member of Hornsey & Wood Green Group for more than 30 years.  He and his late wife Eva - both refugees from Nazism - were very active in the group.  For many years Herbert organised our annual sponsored walk, while Eva organised the group's participation in the annual London-wide Street Collection. 
Herbert also served as co-ordinator of the group's involvement in campaigns on human rights abuses in the former Yugoslavia and Turkey, and was vice-chair of the group for several years.  In addition, he instituted a regular letter-writing session at the end of each group meeting on cases from the Amnesty magazine.
Despite his ill health, Herbert continued to attend Group meetings until shortly before his death.  He will be very much missed.
View latest posts