Pub Quiz, Monday 29 April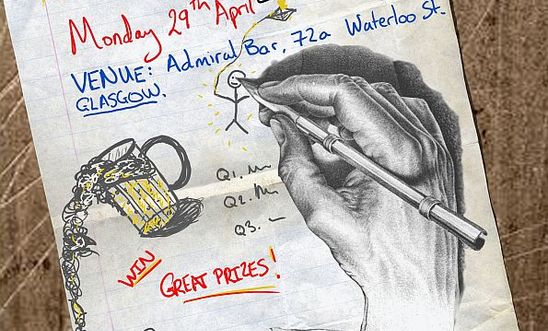 Quiz poster - download below
We will be hosting our annual pub quiz very soon and hope many of you will join us. Last year it was a great, fun event that raised hundreds of pounds, and we're pleased to say that Ralph will be returning as our quiz master.
If you can't come as part of a team, we'll find you a team on the night.
Date: Monday 29 April
Time: 7pm for 7.30pm (should be done by about 9.30 so not too late for a week night!)
Location: Admiral Bar (basement), 72a Waterloo St, Glasgow, G2 7DA, - 5 min walk from Central Station
Teams: Up to 6 entrants per team
Cost: £2 per entrant (bargain!)
If you are able to come, why not join the event on Facebook and invite your friends.
https://www.facebook.com/events/494408333940980/
Thanks and we look forward to seeing you!
Downloads
View latest posts