WOZA: THE POWER OF LOVE CAN CONQUER THE LOVE OF POWER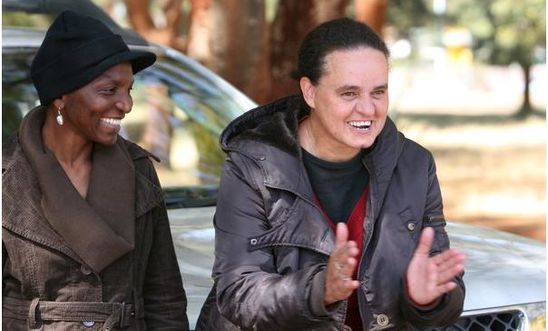 Magodonga Mahlangu and Jenni Williams, founders of WOZA
WOMEN OF ZIMBABWE ARISE 
Countless arrests over a decade
Since WOZA was formed 10 years ago, we have documented numerous incidents in which the group's members have been arrested, harassed and severely beaten by police after exercising their right to peaceful protest. They have been charged with everything from 'kidnapping and theft' to 'criminal nuisance'.
Update 27th November 2013
On 19th and 20th September many WOZA members were beaten and arrested by police at peaceful demonstrations.  Jenni Williams and Magodonga Mahlangu were arrested on both days and Magodonga was also beaten.  These were the first demonstrations since the election.
 
For more information visit www.amnesty.org.uk/zimbabwe
 Update: 14 February 2013

181 WOZA members were arrested at a peaceful Valentine's Day demonstration in Bulawayo. A day earlier, eight members - including Jenni Williams and Magodonga Mahlangu - had been arrested during a peaceful protest outside the Zimbabwean Parliament. Find out more
Every year on Valentine's Day WOZA members take to the streets to hand out roses with the message 'the power of love can conquer the love of power'
Today marks the tenth anniversary of their first Valentine's Day demonstration and Jenni Williams has sent us this message:
'Greetings from Women of Zimbabwe Arise. Valentine's Day 2013 signals a decade of work defending human rights in Zimbabwe by members. This work has been in a framework of great sacrifice in the face of escalating repression. Often times, WOZA has felt very lonely on the streets of Zimbabwe and in the war trenches between an elite dictatorship and the defenders demanding democracy and social justice. Amnesty members the world over have made that loneliness easier to bear by occupying our solidarity corner.
'Amnesty members have spoken for us when we could not speak! They have helped send a clear message to the individuals and institutions that oppress us to respect Human Rights and those human rights are women's rights. WOZA value the friendship of Amnesty but ask that members strengthen their solidarity in 2013, a crucial year in Zimbabwe. Please help us demand the space to work without harassment and violence. Please stay in our corner as we face the escalating repression of highly contested political space. We need your love to make sure that the power of love can conquer the love of power. This year's theme is ONE LOVE, lets unite in love for our rights, lets fight together to enjoy them.'
View latest posts