Write for Rights: April 2013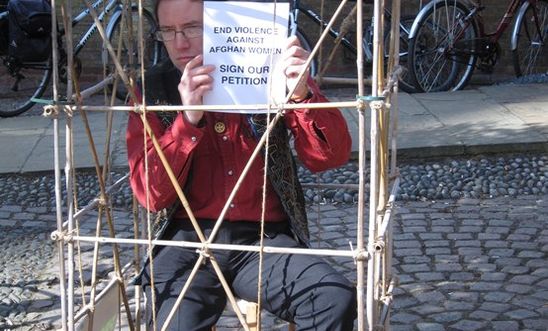 The Ely Amnesty Group held a "Write for Rights" event at the Cathedral Centre on Saturday morning (6th April). In two hours, we collected an amazing 120 signatures on a petition calling on Baroness Warsi, Minister for the Foreign and Commonwealth Office, and Justine Greening, Secretary of State for International Development, to ensure their departments work together to support women's rights in Afghanistan. We had people queuing up to sign - an unprecedented response! The first full day of spring sunshine certainly helped.
Members of the public also wrote letters in support of prisoners of conscience (from Iraq, Laos and the Gambia) and a young man from the North Caucasus republic of Ingushetia who has not been seen since he was abducted by suspected security forces in 2007.
More information on Amnesty's campaign to support women's rights in Afghanistan and an opportunity to sign the petition can be found on: https://www.amnesty.org.uk/content.asp?CategoryID=12150.
It's an immensely worthwhile cause: the shocking fact is that 87% of women in Afghanistan experience some form of violence and abuse inside and outside their homes, and there are real fears this will increase when international forces, including those from the UK, prepare to leave the country next year.
Many thanks to Derek (featured in our photo), Theresa and Anna who all took a turn in the cage.
View latest posts