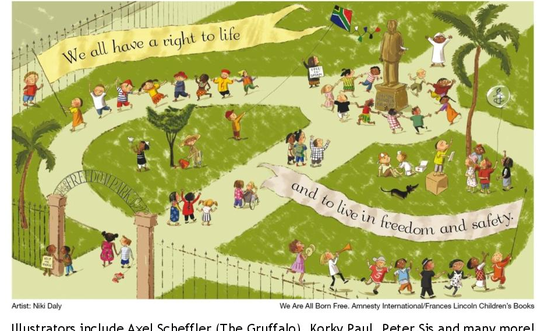 An exhibition of artworks by internationally-renowned and award-winning children's illustrators is coming to Ely Cathedral.
Axel Scheffler (The Gruffalo, Room on the Broom), Korky Paul (Winnie the Witch, The Monster Book of Horrible Horrors), Chris Ridell (The Edge Chronicles, the Ottoline series) and Polly Dunbar (Dog Blue, Fly Away Katie) are just some of the artists who have contributed to We are All Born Free.
This free exhibition will introduce children – and adults – to the Universal Declaration of Human Rights and is being presented by Ely's Amnesty International group (joint winners of the 2015 Marsh Christian Trust award for outstanding human rights activism).
Group press officer Barbara Grafton said: "This exhibition is packed with inspiring and uplifting illustrations from some of the best-loved and most celebrated children's book illustrators in the UK and around the world.
"They explain the basic human values enshrined in the Universal Declaration of Human Rights – such as the right to a fair trial or the right to a family life – in a way that is fresh, fun and easy to understand.
"We are very grateful to Ely Cathedral's chapter for allowing us to put on this exhibition in such a magnificent setting and wish to thank the education team in particular for all their help."
We Are All Born Free is in the south-west transept of Ely Cathedral from 1 to 14 March and is free.
Downloads
View latest posts